→ Master pitching, pricing, and negotiation skills.
→ Build better brand relationships.
→ Be the confident creator you know you are!
"Within 2 weeks, I signed $30K in contracts...now I'm making $40K-50K a month"
Consistent, monthly income from sponsorships? Yes, please!
Whether you're a full-time creator OR hoping to one day ditch your 9-5, brand partnerships likely represent a significant percentage of the money you make.
The only problem is...it's impossible to predict when you'll get them. 
...Right?
WRONG.
Here's the deal: 
Sponsorships can be predictable...if YOU make them predictable. 
Like Kaitlin and loads of other creators, you too can build a profitable business working with brands. With confidence. 
Long-term brand partnerships and stress-free negotiations? Totally possible! 
Sponsorship income that continues to grow regardless of algorithms or audience size? YES!
More freedom and more flexibility? Abso-freakin-lutely! 
Who am I and why am I qualified to revitalize your sponsorship strategy?
Hi there! My name is Justin Moore, Sponsorship Coach and founder of
Creator Wizard
— an online resource teaching creators like you the BUSINESS of being well-paid & well-respected.
Let me tell you a story … 
About 10 years ago, my now-wife April and I were living in Southern California.  This was before we got married and had kids. At that time, it was the two of us and our three cats!
We'd been slowly growing our YouTube channels to about 35K followers and making some nice side income here and there to supplement our day jobs.
One summer day, April came running into the bedroom (I'll never forget this!) and said, "Look at this email! What do we do?"
It was from a very well-known brand asking for our rates. 
Rates? We were confused. We were used to just getting a bunch of free products in exchange for posts.
You mean, this brand actually wants to PAY us to talk about them on social media?!
THAT was the moment that our lives changed forever.
We realized there was absolutely NO LIMIT to how much money you could make as a creator.
We realized there was nothing preventing us from reaching out to brands *ourselves* and pitching unique partnerships.
But most importantly, we realized just how much money you could make from sponsorships.
Way more than Adsense.
Way more than Affiliates.
WAY more than my 9-5 job which I quit 6 weeks after our first son was born!
Today, we've made $4,000,000 working with brands
It didn't happen overnight and it most certainly didn't happen by accident.
We've worked with brands like...
BUT that's not even the real reason you should trust me...
The real reason you should listen to me is because I've helped other creators, like you, earn $3,000,000+
In the past, I also ran a marketing agency and as a result, have insider knowledge about how big brands choose which creators to partner with and why they pass on others.
Over the course of the next 4 weeks, I'm going to teach you how big brands think and help you bust through sponsorship blocks (more on that in a minute!), and step into the mindset of a Brand Deal Wizard!
BUT first … let's talk about the reality right now...
7 things blocking you from landing your dream brand partnerships
Let me be the first to say that it took my wife April and me a LONG time to overcome these mental obstacles. That's right, I said MENTAL obstacles. Because in reality, the only thing standing between you and your sponsorship income goals is, well...YOU.
So I bet what you really want to know is...
"If you get the chance to work with Justin, I would 100% go for it…I felt like I got a crash course in brand deals."
Karen from @gratefulandgray
Are you a creator who's ready to...
Get more confident when you interact with brands so that you don't mess anything up, say the wrong thing, and scare them away?

Negotiate more money for each sponsorship so that you never wonder whether your rates for whitelisting, usage rights, or exclusivity are accurate?

Secure longer-term partnerships so that your one-off deals turn into well-paying, ongoing collaborations?

Pitch more effectively so that brands actually answer your emails and DMs (AND offer to pay you)?

Connect with other business-minded creators who can offer support and guidance so that you never feel alone or confused about how to handle unique or difficult situations with brands?

Get organized and track all the small details from every brand deal so that you eliminate unnecessary re-shoots, never miss a deadline, and get that money in your bank account ASAP?
"Justin is the best in the biz to teach you how to land really good partnerships that will value your worth."
All Live Zoom sessions will be at 3pm PST / 6pm EST on the following days:
Tuesday, June 21
Tuesday, June 28
Tuesday, July 5
Tuesday, July 12
Classes generally last for 1-hour plus 30 minutes for Q&A at the end.
Note: if you're not able to attend on certain days, that's OK! We post the Replays within 24 hours so you can catch them at your convenience (many creators choose to do this).
You'll never get your dream sponsorships without a "system"
Sure, you might have had some deals fall in your lap from time to time... But it hasn't been consistent, right?
You've applied for campaigns on all the brand deal platforms, sometimes successfully, sometimes...not so much.
You've DMed the brand on Instagram or went to their website and emailed "PR@brand.com" crossing your fingers that someone would eventually get back to you.
You've literally made up rates out of thin air when brands asked for usage rights, whitelisting, or exclusivity...silently praying that you weren't low-balling yourself.
But I think you know deep down that there must be a better, smarter way to pitch brands & negotiate.
...There is.
"I'm now making 10X more…I 1,000% recommend his course."
Enrollment Deadline: June 20, 2022
00

Days

00

Hours

00

Minutes

00

Seconds
What my alumni have to say 👇
"There were several times during the sessions that our mouths literally dropped at the strategies that Justin was teaching us! From networking and reaching out to brands, to negotiation and making sure the brands keep coming back for more... his course covers it all and you will leave with strategies that you can implement today to land you brand deals with companies that you love, for MORE money! Brand Deal Wizard is 100% worth the investment!"
"Justin provided so much insight on strategic planning, getting brand deals, and what I found to be the most important: sustaining relationships with brands. The Zoom classes were interactive, highly engaging, with a diverse community of creators. Justin is a terrific leader, not just a teacher. He's very passionate, funny, and encouraging. This program is about understanding your worth and getting paid for it! I highly recommend it!"
"This is not a template course that you just purchase and you're left with a ton of questions. It's interactive and you're going to be guided through the whole way. You're going to be so mind-blown. The information you're going to receive…you don't find anywhere else. If you are a little lost or if this is a goal you've had for a long time, you owe it to yourself to take this course."
Types of creators who will see the best results
✅ Fashion




✅ 

Lifestyle




✅ 

Beauty




✅ 

Tech




✅ 

Family




✅ 

Travel




✅ 

Food




✅ 

Home




✅ 

Fitness




✅ DIY



Since you read all the way down here, you probably want to know *exactly* how this program works, right?
I figured! Let's talk about what we'll cover each week but first...
🚨 WARNING🚨
Soon, your creator friends are going to start DMing you non-stop asking you "How the heck have you been getting all those deals lately?!"
If that sounds annoying to you...well, this program probably isn't a good fit. 😉
LIVE INTERACTIVE ZOOM SESSIONS every week where I teach you my Sponsorship Wheel framework which will give you a step-by-step system to get consistent brand deals

AN EXCLUSIVE, PRIVATE COMMUNITY of other successful creators who you can lean on for support and guidance during the program

TONS OF BONUS RESOURCES including calculators, worksheets, and checklists so that you can easily implement what you're learning

WEEKLY OFFICE HOURS where you can ask BDW alumni questions and learn from other creators to reinforce everything you're learning from the course
Success Stories
But will this *really* work for you? Hear what these creators have to say...
Molly: "I earned enough to quit my 9-5 job!"
Daniel: "Having Justin's advice and knowledge in the back of your head constantly during deals will take you to the next level!"
Bri: "This is the best course I have ever taken!"

Karen: "I've landed $35,700 in sponsorships since joining!"
Rich: "I got an immediate 3X return"
Melody: "It helped me gain clarity on how to talk to brands"

Brittany: "I've gotten $6,547 in sponsorships since joining!"
Brandon: "Totally changed the game for me!"
Jessica: "I've closed $35,000-$40,000 in sponsorships since working with Justin!"
Justin: "I've multiplied my income by thousands if not tens of thousands of dollars."
Melissa: "You owe it to yourself to take this course!"
Sarah: "Do yourself a favor...invest in yourself."
Dee: "I've made $5,000+ since joining!"
Fernanda: "I've made $17,000 with less than 10K subscribers!"
Jessi: "I've made $6,528 since participating!"
Ryan: "Justin has gone above and beyond to make sure my rates weren't too low and I wasn't playing myself."
Aubrey: "I was able to land my first really big deal with one of my favorite brands...and it came a lot faster than I was expecting!"
Sam: "Justin helped me make TWICE as much for a brand deal than I normally would!"
Brand Deal Wizard Bonus Vault
You'll immediately gain access to my private vault of everything you'll need to take your sponsorship income to the next level!
👇 👇 👇
Exclusive Access to the Brand Deal Wizard Private Community ($3,500 value)
Need more help with a tricky negotiation? Want a second opinion on rates you're about to send to a brand? Learn from the success of other creators in the Brand Deal Wizard private community!
Influencer Rate Calculator ($3,000 value)
Never wonder again whether your rates are too low or whether you're factoring in usage rights, whitelisting, or exclusivity properly. My Influencer Pricing Calculator will take all the mystery out of setting your fees when negotiating with brands.
Weekly Office Hours ($2,000 value)
Have a specific question on a sponsorship you're currently negotiating? Need advice on how to pitch your dream brand? Simply want to hear what's on other creators' minds? 
Attend Weekly Office Hours hosted by alumnus, Dee Brissett, to reinforce everything you're learning in the course.
Full Replays from Past Cohorts ($2,000 value)
Want to go even deeper? Watch full replays from the past three cohorts of Brand Deal Wizard, including detailed Q&A sessions! 
Case Study Media Kit Upgrades ($1,500 value)
Immediately set yourself apart from other influencers with these easy-to-customize Case Study templates. Brands' jaws will drop when they see your new results-oriented Media Kit.
Easy Contract Templates ($500 value)
Ever done a sponsorship where the brand said "we don't need a contract! We can just agree to everything over DM!" 🚩🚩🚩
Use the Brand Deal Contract Templates (*in addition to consulting a lawyer*) to ensure you're always protected.
Influencer Marketing Negotiation Glossary ($500 value)
Never get stuck or tongue-tied again during a brand deal negotiation with my glossary of 40+ influencer marketing terms, acronyms, and lingo that every creator should know.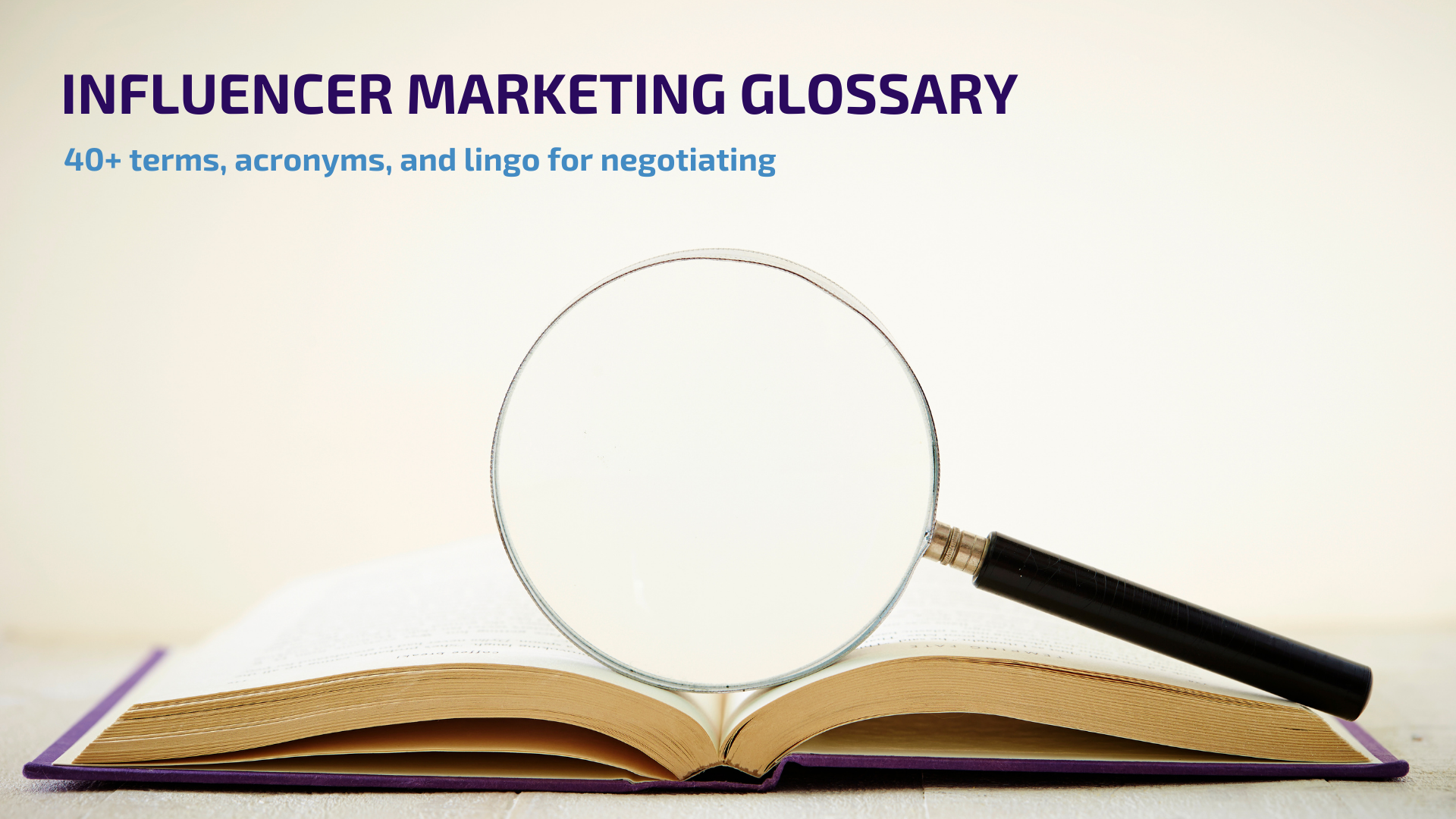 14 Day Brand Deal Challenge eBook ($1,000 value)
Need an extra jumpstart? Take my 14 Day Brand Deal Challenge with this 61 page eBook covering everything from Knowing your Worth, Updating your Social Media to Attract Brands, Understanding Influencer Marketing Terminology, Getting Paid Faster, and much more! 
Let's quickly recap everything you're getting...
✅ LIVE classes for 4 weeks ($6,000 value)
✅  Private Creator Community ($3,500 value)
✅  Influencer Rate Calculator ($3,000 value)
✅  Weekly Office Hours ($2,000 value)
✅  Replays from Past Cohorts ($2,000 value)
✅  Case Study Media Kit Upgrades ($1,500 value)
✅  Easy Contract Templates ($500 value)
✅  Influencer Marketing Glossary ($500 value)
✅  Brand Deal Challenge eBook ($1,000 value)
So what is the investment?
I see influencers investing in things like new camera equipment, new phones, new editing software - don't get me wrong - all of those things can absolutely improve the quality of your content. 
But if you want to improve the quality of those *sponsorship checks,* you need to be investing in your knowledge!
The total value of the course is $20,000+
But your investment is...
Claim your spot in Brand Deal Wizard today!
What happens after you join?
Step 1.

Attend Zoom classes for 4 weeks (or watch the replays if you can't join live)

Step 2. (Optional)

Attend weekly Office Hours to get all your questions answered

Step 3.

MORE Brands, Opportunities, and Money!
Now, I know what you're thinking...
Why is this so ridiculously inexpensive?
Because let's face it...even ONE high-paying sponsorship will get you a massive return on your investment in this program.
But here's the thing...
I believe that landing dream brand partnerships shouldn't be restricted to just a few "well-connected" influencers.  
Every influencer CAN secure lucrative brand deals with complete confidence.
There are TWO big reasons why I'm offering this program at a fraction of what it costs to work with me one-on-one:
Reason 1: This is an invitation to become part of an exclusive, growing community of creators that are serious about transforming their earning potential. I'm going to teach you a ton but learning from others' experiences is often when things finally "click." Your investment to join Brand Deal Wizard right now guarantees you've got a front-row seat to propel you along your path to success.
Reason 2: It enables me to live my mission of helping creators big and small land 1,000,000 sponsorships by 2032.
So, yes, it's a WIN-WIN.
Frequently Asked Questions (FAQ)
Do you have a monthly payment plan option?

Absolutely! Scroll back up to the "Investment" section to read more about the monthly installment option.

Will I actually get results? Why should I *really* invest in this?

My wife April and I have personally made over $4,000,000 in brand deal income using the strategies I teach in Brand Deal Wizard (like the Sponsorship Wheel framework) and it WILL work for you too if you're willing to put in the work. I also coach influencers 1-1 using these same principles and have achieved *incredible* results (scroll back up to check out some of the testimonials). To set crystal clear expectations, please read the earnings disclaimer at the bottom of this page.

What if I've only done posts in exchange for free product and haven't done a *paid* brand deal yet, is this right for me?

Brand Deal Wizard is an intermediate course for influencers that have experience doing paid sponsorships. I will be releasing a separate program called "Gifted to Paid" in the future, so click here to stay updated!

I think I make pretty good money on my own already, how will this program help me?

If you're satisfied with the income you're making, are getting consistent brand deals, know for a fact you're charging the right amount, and feel confident nothing will derail your earning potential in the future, perhaps this program isn't for you. Brand Deal Wizard is for influencers who want more certainty and confidence in their lives so that they can get rid of their brand deal blocks for good.

I've been an influencer for a while and I feel like I already know most of the common pitching techniques and best practices. I'm concerned this program will be too simplistic.

Having experience working with brands will actually help you achieve results even *faster* with Brand Deal Wizard because the strategies and tactics I'll teach you are most helpful for influencers with existing brand and agency contacts.

Does this program focus on getting brand deals for specific types of creators or on specific social media platforms?

Brand Deal Wizard is best suited for influencers creating content in family-friendly categories such as Lifestyle, Beauty, Parenting/Family, Fashion, Food, Health/Fitness, Home, and Travel. Additionally, though the principles I teach will help creators secure sponsorships on any social platform, we will talk mainly about YouTube, Instagram, Facebook, and TikTok since those tend to be where most consumer brands are partnering with influencers right now.

Tell me more about the time commitment, schedule, and live sessions?

To truly get results, plan on allocating at least 2.5 hours per week for the duration of BDW. One hour will be for the live video sessions and thirty minutes for Q&A along with supplemental videos + resources and an additional hour for you to take action. Dates/times of the live sessions will be locked in after the cohort closes (all content will be archived if you can't make a session for some reason). To be clear, you will not be able to binge all four weeks at once or skip ahead to a future week's content. I specifically designed this course to build on itself week-by-week so that you get the most value out of the lessons.

Will this program be relevant for me even if I don't live in the US/UK/Canada?

Absolutely! The fundamentals that I teach in Brand Deal Wizard are universal and will apply in any country brands are partnering with influencers. As a heads up, some lessons focus on pitching tools like LinkedIn, which may not be the most prevalent business directory in your region but the lessons can be easily transferred.

How much access will I get to Justin personally?

Brand Deal Wizard includes access to an exclusive, private community where you can get support and guidance from other creators so that you'll never feel alone when navigating your next deal. There will be opportunities for interaction with Justin directly on the weekly live calls (including intimate Q&As) but this program is not group coaching or 1:1 coaching. Remember, by the end of BDW, you will have a completely renewed outlook on your brand deal strategy and feel empowered to negotiate your future sponsorships solo.
I am so confident that you will start getting Mind-Blowing Brand Deals after participating in the course that I'm offering a 30-Day, 100% Money-Back Guarantee from the time of purchase, as long as you put in the work. That means that if you've shown up to every live session, you've implemented all of the strategies and tactics I recommended, and still don't feel like the investment you made in your knowledge will help you make more money on your next brand deal, I will refund you in full.
Enrollment Deadline: June 20, 2022
00

Days

00

Hours

00

Minutes

00

Seconds
Regardless of whether you join Brand Deal Wizard or not, I want you to know that I'm proud of you. It's not easy being a creator and the fact that you're thinking about investing in yourself is inspiring. If you have any questions AT ALL, do not hesitate to email me at justin@creatorwizard.com and I would be more than happy to answer them. Hope to see you inside!