Only 4% of creators earn a full-time income
46.7M amateur creators vs 2M professionals (source: SignalFire)
Even for influencers that have been in the game for a while, getting consistent brand deals is...hard. Not knowing how much money you're going to make from one month to the next can be one of the most stressful parts of earning a living from social media.
But it doesn't have to be that way.  
In fact, that uneasy feeling can be traced to something very specific...
7 things preventing you from solving Brand Deal Anxiety
Let me be the first to say that it took my wife April and me a LONG time to overcome these mental obstacles. That's right, I said MENTAL obstacles. Because in reality, the only thing standing between you and your sponsorship income goals is...YOU. Well, to be fair, you and the *brands* that pay you!
But before we get any further...
So...what's at stake if you don't take action?
If you want to be able to grab a big chunk of that $15 billion for yourself, your old ways won't work anymore!
You need SYSTEMS!
You need SAVVY!
You need GRIT!
And you can't expect money and opportunities to fall in your lap (even if they sometimes have in the past).
Registration Deadline: June 8, 2021
Class Dates: June 10, 17, 24, July 1
00

Days

00

Hours

00

Minutes

00

Seconds
But first...why am I qualified to breathe new life into your brand deal strategy?
Let me properly introduce myself. My name is Justin Moore and I'm the Founder of Creator Wizard, an online resource where I teach the *business* of being an influencer. My wife April and I have been full-time creators for over 7 years (on social media for 10+) and
have personally made over $3,000,000 working with brands.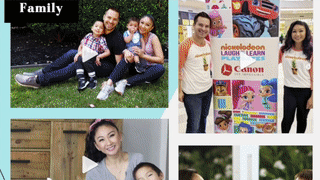 I have also run an influencer marketing agency for over 5 years that has
helped other creators earn an additional $2,000,000.
I have worked on more than 500 brand deals, interpreted 1,000+ sponsorship contracts, and have partnered with pretty much every consumer brand imaginable. I have a unique perspective because not only have I been a creator in the trenches doing brand deals for years but by running an agency,
I have been in the room with these brands helping them decide how to spend hundreds of thousands of dollars on influencer campaigns.
"If you get the chance to work with Justin, I would 100% go for it…I felt like I got a crash course in brand deals."
Karen from @gratefulandgray
Are you a creator who's ready to...
Win more brand deals than you ever thought possible so that you never have to worry about whether you'll be able to pay your bills next month?

Negotiate more money for each sponsorship so that you never wonder whether you're leaving money on the table?

Secure longer-term partnerships so that you don't feel like you're always hustling to find that next deal?

Pitch more effectively so that you can turn that anxiety (waiting for brands to contact you) into confidence (flipping the script and contacting *them*)?

Connect with other successful creators who can offer support and guidance so that you never feel alone or confused about how to handle unique or difficult situations with brands?

Get organized and track all the small details from every brand deal so that you eliminate unnecessary re-shoots, never miss a deadline, and get that money in your bank account ASAP?
How has Justin helped other creators?
"I...just landed my highest-paying brand deal so far and I wouldn't have been able to do it without [Justin] from @CreatorWizard, so if you are looking for assistance or help with brand partnerships...definitely check Justin out because this guy knows what he is doing."
"Justin just helped me make TWICE as much for a brand deal than I normally would. With one simple thing that he recommended to me, we're talking *thousands of dollars* added to my ask and they accepted without any questions...It made me realize that I should be making more as a creator."
"Working with brands as a creator can be a little bit difficult because a lot of the time [they] don't understand the value of your work and it's not like there's a set list of rates that you can refer to [so you can] price yourself accurately. [Justin helped] me negotiate a...two-video deal at DOUBLE the rate the brand had originally offered."
Since you read all the way down here, you probably want to know *exactly* how this program works, right?
I figured! Let's talk about what we'll cover each week to transform your sponsorship strategy so that your income goals are no longer a daydream.
Brand Deal Wizard (BDW) Overview
LIVE INTERACTIVE ZOOM SESSIONS every week where I teach you my E.A.R.N. framework which will eliminate those ups and downs and provide income predictability

AN EXCLUSIVE, PRIVATE COMMUNITY of other successful creators that you can lean on for support and guidance

12 MONTHS OF ACCESS to all content, calculators, worksheets, and checklists within the program portal
And before I forget...check out this BONUS stuff! 👀👀👀
Brand Deal Pricing Calculator

Detailed tool to calculate how much to charge on each platform including how to factor in exclusivity, paid media, and whitelisting.

P.I.N.O.T. Pitch Follow-ups

5-step framework for how to follow up with brands after the initial collaboration to secure long-term partnerships.

Plus 10 More Downloadables

R.O.P.E. Pitching Method, Pitching Best Practices, Handling Complex Feedback, Smart Contract Interpretation, and more!
So what is the investment?
Remember, your brand deal pricing strategies that may have worked a few years ago are likely out of date and the last thing you want is to wonder whether you're leaving a significant amount of money on the table.
I see influencers investing in things like new camera equipment, new phones, new editing software - don't get me wrong - all of those things can absolutely improve the quality of your content. But if you want to improve the quality of those *sponsorship checks,* you need to be investing in your knowledge!
When I do brand deal coaching one-on-one with creators and influencers, my fee is $6,000. 
But for Brand Deal Wizard, your investment is...
Let's take your brand deal income to the next level!
By proceeding, you're confirming that you've done at least one paid sponsorship
Now, I know what you're thinking...
Why is this so ridiculously inexpensive?
Because let's face it...even ONE high-ticket sponsorship will more than pay for your investment in this program.
But here's the thing...
I believe transforming your creator business and landing premium brand partnerships shouldn't be restricted to an elite few.  
Every influencer CAN secure lucrative brand deals with complete confidence.
There are TWO big reasons why I'm offering this program at a fraction of what it costs to work with me one-on-one:
Reason 1: This is an invitation to become part of an exclusive, growing community of creators that are serious about transforming their earning potential. I'm going to teach you a ton but learning from others' mistakes is often when things finally "click." Your investment to join Brand Deal Wizard right now guarantees you've got a front-row seat on your path to success.
Reason 2: It helps me to live my mission of making the art & science of sponsorship income predictability accessible to every creator.
So, yes, it's a WIN-WIN.
Success Stories
But will this *really* work for you? Hear what these creators have to say...
Frequently Asked Questions (FAQ)
Will I actually get results? Why should I *really* invest in this?

My wife April and I have personally made over $3,000,000 in brand deal income using the strategies I teach in Brand Deal Wizard (like the E.A.R.N. framework) and it WILL work for you too if you're willing to put in the work. I also coach influencers 1-1 using these same principles and have achieved *incredible* results (scroll back up to check out some of the testimonials). To set crystal clear expectations: BDW will equip you with everything you need to build a sustainable brand deal income but there's no guarantee you'll get sponsorships during the four-week program itself. For more information, please read the earnings disclaimer at the bottom of this page.

What if I've only done posts in exchange for free product and haven't done a *paid* brand deal yet, is this right for me?

Brand Deal Wizard is an advanced course for influencers that have experience doing paid sponsorships (a requirement to participate). I will be releasing a separate program called "Gifted to Paid" in the future, so click here to stay updated!

I think I make pretty good money on my own already, how will this program help me?

If you're satisfied with the income you're making, have consistent brand deal flow, know for a fact you're charging the right amount, and feel confident nothing will derail your earning potential in the future, perhaps this program isn't for you. Brand Deal Wizard is for influencers who want to inject certainty and confidence into their lives and businesses so that they can get rid of their brand deal anxiety for good.

I've taken other courses on how to make money as an influencer before, how is this one different?

Brand Deal Wizard is hands-down the most comprehensive training program ever developed so that you can approach your sponsorship strategy holistically. Focusing on a single element like pitching or negotiation is simply not sufficient to develop a robust, predictable income working with brands.

I've been an influencer for a while and I feel like I already know most of the common pitching techniques and best practices. I'm concerned this program will be too simplistic.

Having experience working with brands will actually help you achieve results even *faster* with Brand Deal Wizard because the strategies and tactics I'll teach you are most helpful for influencers with existing brand and agency contacts.

Does this program focus on getting brand deals for specific types of creators or on specific social media platforms?

Brand Deal Wizard is best suited for influencers creating content in family-friendly categories such as Lifestyle, Beauty, Parenting/Family, Fashion, Food, Health/Fitness, Home, and Travel. Additionally, though the principles I teach will help creators secure sponsorships on any social platform, we will talk mainly about YouTube, Instagram, Facebook, and TikTok since those tend to be where most consumer brands are partnering with influencers right now.

Tell me more about the time commitment, schedule, and live sessions?

To truly get results, plan on allocating at least two hours per week for the duration of BDW. One hour will be for the live video sessions (with Q&A) along with supplemental videos + resources and an additional hour for you to take action. Dates/times of the live sessions will be locked in after the cohort closes (all content will be archived if you can't make a session for some reason). To be clear, you will not be able to binge all four weeks at once or skip ahead to a future week's content. I specifically designed this course to build on itself week-by-week so that you get the most value out of the lessons.

Will this program be relevant for me even if I don't live in the US/UK/Canada?

Absolutely! The fundamentals that I teach in Brand Deal Wizard are universal and will apply in any country brands are partnering with influencers. As a heads up, some lessons focus on pitching tools like LinkedIn, which may not be the most prevalent business directory in your region but the lessons can be easily transferred.

How much access will I get to Justin personally?

Brand Deal Wizard includes access to an exclusive, private community where you can get support and guidance from other creators so that you'll never feel alone when navigating your next deal. There will be opportunities for interaction with Justin directly on the weekly live calls (including intimate Q&As) but this program is not group coaching or 1:1 coaching. Remember, by the end of BDW, you will have a completely renewed outlook on your brand deal strategy and feel empowered to negotiate your future sponsorships solo.
I am certain that Brand Deal Wizard will be a fundamentally transformative experience for every creator that participates. As such, I'm offering a 30-Day, 100% Money-Back Guarantee from the time of purchase, as long as you put in the work. That means that if you've shown up to every live session, you've implemented all of the strategies and tactics I recommended, and still don't feel like the investment you made in your knowledge and confidence will help you make more money on your next brand deal, I will refund you in full.
Registration Deadline: June 8, 2021
Class Dates: June 10, 17, 24, July 1
00

Days

00

Hours

00

Minutes

00

Seconds